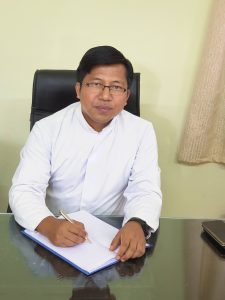 Dear Friends,
Hearty Welcome to Don Bosco School, Itanagar!
I gladly welcome all of you to our enriching website, which I am sure will serve as an essential interactive tool for all of you to acquaint yourselves with the system followed in the school.
More than ever, life has depended on internet: business, education, examination, e-learning, e-banking, admissions etc. Educational prophets prophesy that the future of education is online. Hence, more than ever before, one should be more familiar with on-line facilities especially for the education of our children.
Our guiding principle has been the integral development of students; we strive passionately for the integral development of virtue and knowledge. With this approach, our students will excel in all levels: academics as well as co-curricular. Our Bosconians are second to none; they will certainly be in the vanguard of progress and achievement.
Looking forward to your frequent visit to www.donboscoschoolitanagar.edu.in
Fr. P.G. Joshua Sdb
Principal